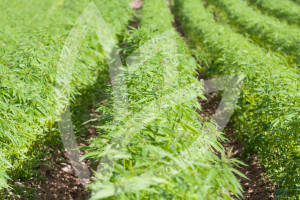 Are you confused about the difference between hemp and marijuana? Many people are. It's true that both are varieties of the Cannabis plant family. Both contain CBD (cannabidiol), a compound that's being studied for a multitude of health and wellness benefits. But that's pretty much where the similarity between the two ends.
Hemp and marijuana have different chemical compositions. Hemp contains 0.3% or less tetrahydrocannabinol, or THC, the ingredient present at high levels in marijuana that causes a 'high'. Marijuana describes varieties of Cannabis that contain more than 0.3% THC. THC levels in marijuana vary, but typically are 5% to 20% THC and even as much as 30% THC. CBD oil can be made from either hemp or marijuana; using hemp allows consumers to access CBD without the intoxicating or psychoactive effects of THC. CBD oil derived from hemp does not affect mood in any way. That's the driving reason that the 2018 Farm Bill made it legal for farmers to grow industrial hemp for the first time since marijuana and hemp were lumped together as illegal substances in the 1970 Controlled Substances Act.
Hemp is a variety of Cannabis that is harvested for a mind-boggling variety of industrial uses, one being the production of CBD oil. All of Wanae's CBD oil products are derived from hemp. It is believed to be one of the world's oldest — perhaps even the country's oldest — crop. (America's founding fathers loved it for its ease of cultivation and multitude of uses, from paper to rope to clothing and more.)
Aside from a different chemical makeup, the plants are very different in terms of cultivation as well. Hemp can be densely planted, is hardy in a variety of climates and conditions and grows fast. It's considered a wonder plant that's eco-friendly. Marijuana, on the other hand, must be cultivated much more carefully, having specific growing needs in terms of spacing, temperature and humidity. That's why marijuana is often grown in climate-controlled greenhouses. To the trained eye, hemp also looks different from marijuana. Hemp grows taller while marijuana is a shorter, more bushy plant.
At Wanae, we believe educated consumers can make smarter choices about their health and wellness needs. Have questions? Reach out to us. We're here to answer your questions!