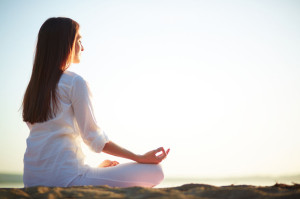 Stress is hard on your body. It accumulates quietly over time thanks to work deadlines, screaming kids and vacation days sacrificed to things you'd rather not be doing. So, it's no surprise that many people in the 21st Century have started turning to a number of diversions that take their minds off the grind of everyday life.
Some of us may seek a quick and easy solution in the form of mindless Netflix binge-watching or mixing up a cocktail to ease our troubled minds. Of course, there is plenty of scientific research that shows these ready-made, sedentary solutions can be just as harmful – if not more so – than stress itself. Others have found solace in more natural (and ancient) solutions, which explains the massive popularity of mindfulness, yoga and meditation. If you're one of those who regularly hit the mat when things get stressful, good news: science also shows that taking time to soothe your worries through mindful stretching and quiet moments can be very beneficial in the short and long term.
History of yoga and mindfulness
Let's go back in time for a moment. Nearly 5,000 years ago in Northern India, spiritual seekers turned to the inspiration of the Rig Veda, a sacred text outlining the way to a better life through mantras, chants and rituals reserved for high priests. After going through multiple evolutions, the practice finally settled into what we now know as yoga, part of which involves deep stretching, mindful breathing and focus on living in the present moment.
The practice saw a rapid explosion as Eastern philosophies crept into the Western psyche over the course of the 20th Century, with the 1960s marking a turning point in yoga and meditation. Once the '70s rolled around, books and television programs espousing the benefits of yoga were prevalent, eventually culminating in full-blown public acceptance by the turn of the century.
Today, yoga studios are everywhere. Modern day yogis stretch their minds and bodies in unison with fellow travelers on their lunch breaks and after work instead of reaching for pills or bottles to solve their problems. It's no longer an esoteric practice and global corporations now routinely sell yoga-related clothing and products which have become part of our everyday life.
CBD and yoga
With the obvious benefits of a more mindful approach to life, it's no surprise that people are looking for ways to enhance their experience. With the 2018 passage of the Farm Bill, CBD has become the go-to companion for a quiet session on the mat.
And let's not forget mindfulness and meditation. Even those who aren't keen on stretching out in front of complete strangers can find comfort in sitting quietly, letting their thoughts evaporate into the ether as they focus on a mantra or simply watch the world go by. Studies have shown that even taking as little as 15 minutes to center yourself can bring about multiple health benefits including reduced stress, decreased anxiety and a more thoughtful approach to the world in general.
Have you tried mixing up your daily yoga practice with one of Wanae's incredible CBD supplements?
Spectrum capsules are packed with a whole lot of natural goodness — cannabinoids, terpenes, essential vitamins, minerals and omega fatty acids.
Pure is a highly potent CBD tincture that's specially infused with a refreshing mint taste.
Calm is designed to help reduce your emotional stress, anxiety levels and tension and help you relax.
Super AI is designed to help reduce inflammation and lower free radicals.
Energy is designed to stimulate mental awareness and reduce brain fog. It contains ginseng, natural caffeine, and amino acids.

Perhaps you would like to try CBD the next time you attend yoga class or practice quietly in your home before bed. Great. But, there are a few things to know about CBD. First of all, not all CBD products are the same. The Farm Bill is a wonderful development, but it has also opened up the floodgates for less-than-well-intentioned manufacturers to slap together poorly-sourced CBD products from questionable sources.
Fortunately, Wanae is a company dedicated to producing high-quality and accurately labeled CBD products. With the largest production facilities and farms in North America, Wanae's CBD lineup comes with the guarantee that you're getting farm-to-shelf natural goodness that's backed by a certificate of analysis.