Giving presentations is part of working in the corporate world, but that doesn't make standing up in front of a group of people any easier. If you've tried everything,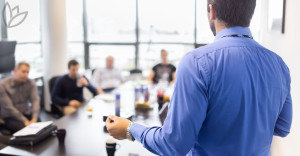 including meditation, you may want to consider CBD oil.
Various research studies have suggested that CBD oil can help calm anxiety without negatively impacting your train of thought or cognitive function. In this blog post, we'll take a closer look at how CBD oil may positively impact your public speaking skills.
Public speaking: One of the most common fears
It is estimated that 75% of Americans suffer from a fear of public speaking. Women are more prone to get cold feet (75%) compared to men (73%) but nonetheless, speech anxiety affects over 5.3 million Americans.
Even more surprising, is that a fear of public speaking affects everything from graduation rates to the ability of individuals to attain raises. Put simply, your comfort around others — or at least your ability to act comfortable around others — has the ability to impact your career's trajectory and even your livelihood.
Can CBD oil alleviate anxiety?
Since our everyday interactions directly impact our professional lives, it's important to be able to interact naturally with others. From shaking hands and making small-talk with co-workers to sitting down and hashing out a marketing plan with your superiors, thoughtful, easy-to-understand communication is necessary to succeed.
Does the thought of talking with a complete stranger leave your palms sweaty? Do networking events make your heart beat uncontrollably? You're not alone. But CBD could help.
A 2011 study found that when individuals took CBD "their speech performance discomforts decreased as well as their cognitive impairments. Also, there's a significant decrease in their alerted anticipatory speech." In laymen's terms, CBD oil helped people feel more relaxed when giving a presentation.
Stop letting business opportunities pass you by
There are no concrete statistics, but some productivity experts estimate that thousands of individuals are passed over each year for promotional opportunities due to perceived shyness or anxiety. Are you one of them? Don't accept a fate that involves you never speaking up or getting what you want.
Consider how CBD oil may be the solution you need to improve your professional life and seize the ultimate opportunity.
CBD oil may be able to positively impact you on a professional level
Even some of the world's most well-known business leaders and entrepreneurs have suffered from anxiety. Getting nervous when speaking in front of others, isn't a weakness, it's natural that millions of people around the world suffer from anxiety. If you're tired of fending off butterflies in your stomach, CBD oil may be the affordable, all-natural option that you've been looking for.