Here at Wanae, we are all about promoting a happy and healthy lifestyle for our customers. And what kind of life is happy if you have to leave your best friends behind? We're talking about your dog, of course! We understand that dogs become a part of your family, and we become part of their pack. That's why we created Wanae Pet. We could never leave our pup in the dust on our journey to a better life!
Much like humans, studies on animals have shown that CBD has many positive effects. These range from alleviating pain and swelling in joints to reducing anxiety. Unfortunately for our pups, they can't pop an aspirin when they wake up with a sore hip or have a strong drink when they want to take the edge off.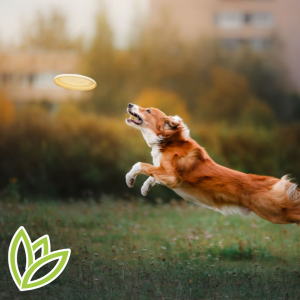 Thankfully, CBD is a natural product from the earth and, at least with Wanae, you can always count on a pure product. You should always slowly begin to introduce your fur baby to CBD by beginning with a low dosage and watching to see how they react. If over time they do not experience any negative reactions, you can slowly up the dosage.
If your pup is just not as spry as in their younger years and have begun to experience joint pain, it may take up to a week for you to notice a positive effect. Much like in humans, CBD results for dogs are best after the CBD has had a chance to build up in the Endocannabinoid System over time. You may notice over time that your pet has become more interested in playing than usual and their movements are more fluid and dynamic than before. In short, they are moving like they used to!
On the opposite end of the age spectrum is the problem of anxiety in young dogs. Many pets suffer from separation anxiety from their owners and can cause damage to property or harm to themselves if it is not properly managed. CBD has the ability to lower blood pressure, therefore reducing stress. Again, it is always smart to see how your pup responds to CBD, so start low and slow on dosages. Once it has been established that a pet is fine with CBD, some owners will opt to occasionally give their dog a larger, one time dose for a big event, like a trip to the vet or fireworks on the 4th of July. While small doses of CBD can add up to great effects down the road, a larger dose will also be effective, but it is always best to know your pet will respond well.
If you notice your pet is lethargic, excessively panting or drooling or losing their balance, this may be a sign that your pet has had too much CBD and it is time to visit the vet. This sort of event should be avoided at all costs. Chances are, your fur baby will be just fine, but imagine if the human you loved and trusted most in the world gave you something to eat and it made you as sick as a dog, literally! No one wants that for their poor, unsuspecting pet! Always remember to responsibly administer CBD to your dog.