High-profile athletes have long been touting the benefits of CBD oil, but it wasn't until just recently that the World Anti-Doping Agency decided to remove CBD oil from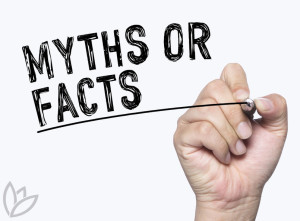 its list of banned substances, or that the product entered the public consciousness.
Now that CBD oil is on the minds of millions of Americans, misinformation, and half-truths are popping up everywhere, from online forums to social media. It's time to start educating the general public while separating the fact from the fiction.
Myth Number One: CBD oil comes from marijuana.
Our oil is derived from industrial hemp. This is a variety of the Cannabis sativa plant grown specifically for products including paper, textiles and even clothing. Marijuana is another member of the Cannabis sativa species, but it is the female, flowering plant.
Industrial hemp has high amounts of phytocannabinoids, which are commonly referred to as CBD. In fact, approximately 40% of an industrial hemp plant is cannabidiol. This makes them ideal for harvesting CBD-heavy products.
Myth Number Two: CBD oil has psychoactive properties.
Earlier, we mentioned that marijuana and industrial hemp are two different plants within the Cannabis sativa family. This also applies to side effects associated with CBD products. Many people think that CBD oil will make them feel light-headed or giggly, but that isn't the case. CBD is naturally low (0.3% or less) in THC, the property in marijuana that causes psychoactive effects like laughter and an increased appetite.
Myth Number Three: CBD is a cure-all.
As much as we like to talk with people about the benefits of CBD, we also know that it isn't necessarily the solution to all of the world's problems. Numerous studies have suggested that CBD can improve sleep, help combat chronic pain, and even fight depression, but everyone's body chemistry is different.
It's important to do your research prior to pursuing a CBD treatment regiment. Take the time to schedule an appointment with your doctor. Write down any questions that you may have. Will taking CBD have an impact on other medications you're taking? What do you hope to achieve by using CBD? We are firm believers in the power of industrial hemp and its byproducts, but we also need to be realistic. CBD is one aspect of a far more complex health picture.
Myth Number Four: CBD research is new.
Believe it or not, cannabinoids were first discovered in the 1940s, by two independent investigation groups. Over two decades later, during the early 1960s, a team of researchers documented the chemical structure of CBD for the very first time. Since then, scientists and researchers all over the world have have been studying the benefits of CBD.