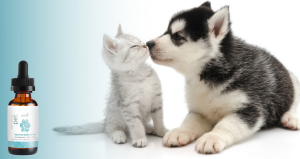 When it comes to aging, dogs and cats have a lot in common with humans. As they age, they start to slow down and many begin to struggle with stiff and achy joints. That's why many pet owners are asking about CBD oil for their furry members of the family. In a survey conducted by the Veterinary Information Network, two-thirds of veterinarians surveyed said they were asked about cannabis by their patients at least once a month.
Confused about CBD oil and the terms cannabis, marijuana, and hemp? Simply put, the cannabis plant family has two primary species — hemp and marijuana. Both contain CBD, but marijuana also contains a much higher percentage of THC than hemp does. THC is the compound responsible for making people feel 'high'. CBD oil derived from help has less than 0.3% THC or even 0% THC, depending on the formulation. CBD oil derived from hemp does NOT produce feelings of being 'high'.
More pet owners are trying CBD oil not only to help relieve stiff and achy joints in their pet but to reduce stress levels as well. Anyone who has ever had to cuddle up to a quivering dog or terrified cat during a fireworks show or storm can attest to the fact that animals stress just like we do. Our CBD oil products can help people and pets better manage stress.
We understand that you carefully select your pet's food and supplements. At Wanae, we carefully create our PET CBD oil product, just as we do with the formulations we create for humans! PET is our 0% THC supplement available as a tincture so you can easily add it to your pet's food or treats. Studies show that many CBD oil products available today — as high as 70% of all products — are mislabeled, contain too little CBD or are created with ingredients not listed on the label. With Wanae, you can rest assured that what's in your bottle is what's reflected on the label. We have an independent laboratory test all of our products. Simply scan a bottle of PET and you'll see the results of that important third-party testing.
Not all CBD oil companies provide a COA — Certificate of Analysis — but we are committed to doing so for each of our products. While most of the potential benefits of CBD for pets are anecdotal, studies are now under way exploring the benefits of CBD oil for pets. One, conducted at Cornell University, suggests that CBD oil can help increase comfort and activity in dogs with osteoarthritis. Your pets are your family, too. Ask your veterinarian about a CBD oil supplement for your pet. Ask us for more information about PET, specially created for dogs, cats and other animals.