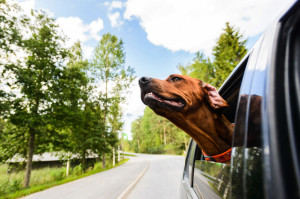 Long car rides are difficult. Your legs get stiff and your back hurts. Your eyes get tired and soon enough you're sick of listening to the same music over and over.
Long car rides are tough for dogs, too. Fortunately, there are things you can do to make road trips easier for your canine companion.
Create a safe space. When setting out for a long car ride with your dog, create a safe place for them in the car. If they are allowed to roam around the entire back of a vehicle, it may make them feel more anxious. It may be unsafe for them to be climbing over and around certain items. Make sure the safe space is clean and clear of potential hazards. A safe space also helps keep them from moving around too much during stop and go traffic, when they can be unexpectedly caught off guard and lose their balance.
Pack plenty of cozy blankets or a bed. Having a dedicated space for your pet can be very important. Consider using a blanket or bed that your dog is familiar with. Familiar smells can help soothe them as much as anything else. If there is a blanket your dog often uses, bring it in the car for the ride. It will help them feel more at home and at ease. Both a blanket or a dog bed can encourage them to lay down and take it easy.
Pack a favorite toy. A favorite toy can go a long way to distract your dog while on a car ride. At best, it can make them forget they are in a car and make them feel right at home because of the familiar smell and feel of the toy. Always make sure that the toy is not a distraction to you (the driver). For example, it's better to leave toys that squeak or whistle at home.
Peanut Butter and a Kong. Sometimes a special treat is in order when the anxiety levels are high. Many dogs love peanut butter and it's not harmful so long as it does not contain Xylitol, a sugar substitute. You can put peanut butter in a toy such as a Kong, which is hollow and designed to be filled with a treat. Once you've prepared the toy, give it to your dog. They'll be busy licking peanut butter the entire ride.
CBD. For dogs who are extra sensitive in the car, CBD can be a great way to make them feel more comfortable. Consider utilizing Pet CBD before your next big trip if your pup experiences anxiety. Give them a dose the night before to help it build up in their system. CBD works best in this way. Then, give them another dose approximately an hour before the car ride begins. This will help them greatly.
Remember, pets are part of the family too. When the entire family is prepared for a long car ride, it's much better for everyone!