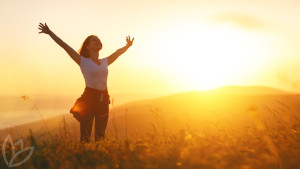 Should you take CBD oil as a capsule or a tincture? The choice is yours! It all depends on your personal preferences. Here are some of the major differences between these two ways to take CBD.
Tincture. This is CBD oil that's applied under your tongue with a dropper. With a tincture, the CBD hits your bloodstream more quickly than with capsules. You'll feel the effects typically within 10- 30 minutes. The downside: Many CBD oil tinctures taste, well, downright awful. Not ours! At Wanae, we've developed highly potent — AND palatable —tinctures for both people and pets.
Our PURE supplement is simple, clean, and powerful CBD in tincture form. It's extracted and formulated with our Farm-to-Shelf process, contains all of the plant's minor cannabinoids and is infused with a refreshing mint taste. It's also THC-free. Each dropper contains 33.33 mg CBD.
Wanae PET is also available in tincture form. Most pets don't like swallowing capsules — have you ever tried giving a cat a pill? PET is quick and easy to administer and helps your animals experience the benefits of CBD more easily. You could use the dropper to apply it to your pet's tongue, but putting a drop on a favorite food or treat is probably much easier. Our PET tincture has the same Farm-to-Shelf process as PURE and also has 0% THC. PET can be used for dogs, cats, and animals of all sizes. Each dropper contains 8.33 mg CBD.
If you're using a tincture, you'll want to consider applying the CBD oil to the area under your tongue, holding it there for 30 seconds before you swallow it. You also can place the tincture on the top of your tongue or in food or drink, if time isn't of the utmost essence. It will take a bit longer to absorb it — and feel the effects — if you place it anywhere other than under your tongue. Make sure to shake the bottle well before using it. Many people who prefer tinctures like the fact that it goes to work more quickly and there's the ability to add it to a meal, a cup of coffee, or a cup of tea.
Both capsules and tinctures should be kept in a cool, dry location. Avoid exposure to extreme heat or direct sunlight. Tinctures can be stored in the fridge for extended life.
Capsules. If you're looking for more precise dosing or want to start at a lower dosing level, you may want to consider capsules, which contain a set amount of CBD starting at 15 mg per capsule. For some people, it's easier to add a CBD capsule to their daily prescription and/or vitamin regimen. Capsules have no taste, can be easily swallowed and you'll feel the effects typically within 60 minutes.
Wanae Spectrum is available in capsule form. It's designed to provide a variety of daily benefits and is available at either a 15 mg or 30 mg level. Spectrum is ideal for consumers interested in what's called the Entourage Effect. Studies have shown that hundreds of therapeutic compounds in 'full spectrum' CBD oil, such as cannabinoids and terpenes, work together to enhance and amplify the therapeutic benefits of individual compounds. Spectrum, considered to be 'full spectrum' CBD, is made from the hemp plant and contains a very low concentration of THC — less than 0.3%. All of Wanae's other products contain 0% THC.
Our Energy CBD oil supplement, also available as a capsule, is ideal for upgrading daily caffeine intake. It's a healthy pick-me-up designed to stimulate mental awareness and reduce brain fog. Each capsule provides 15 mg CBD. Energy has 0% THC. Our Calm supplement is also available as 15 mg CBD capsules. It's designed to help you better manage stress and wake up feeling refreshed. Calm has 0% THC.
Whichever form of CBD you want to try, know that Wanae is committed to the highest quality formulations and accurate labeling. Unfortunately for consumers, it's estimated that nearly three-quarters of all CBD oil products — capsules and tinctures — on the market today are inaccurately labeled and/or poor quality. Many consumers are taking their chances when purchasing CBD oil products because the label doesn't always accurately reflect what's inside the bottle.
With Wanae, all you need to do is scan the QR code on any of our bottles to obtain important information about our products and the third-party testing that was conducted by an independent laboratory. Unlike with some other companies, you don't have to wonder what's in our products! We provide a certificate of analysis (COA) for all of our products detailing the product's ingredients, its potency and the results of the rigorous testing. Never purchase a CBD oil product without a COA — you could be buying a product that's fraudulent or unsafe.
We also don't purchase our hemp from China or anywhere else in the world. Both our tinctures and capsules are made from hemp grown right here in North America. Want to learn more about our incredible product lineup? Go to this link.